The AMPAC USA Military Sea Water Desalination – ROWPU SW4500 is capable of producing 4,500 GPD (Gallons per Day) / 19,000 LPD (Liters Per Day) for Navy Ships at a minimum power consumption. The Military Watermaker SW4500 is engineered for Heavy Duty Continuous use applications with a minimum user intervention, This watermaker is a horizontal one-piece frame configuration with internal High-Pressure Booster Pump for ease of use in compact locations. The super quiet Watermaker is built very compact to fit from the hatches of the smallest Navy Patrol Boats, and features automatic operation and is easy to use with a Start and Stop control. It serves as an efficient fresh water supply from the sea, ideal for small power Military Power Boats, All components within the frame are readily accessible for easy maintenance. This unit is designed to fit in tight places.
The SW4500 Seawater Desalination Watermaker is a NATO Approved Watermaker as a standard for NATO Ships and has a unique (NSN) NATO Stock Number for Military Applications.
NATO Stock Number: 4620-01-623-4778
---
STANDARD FEATURES:
Major Components:
Smart on Demand Feed Supply Pump
Sand Separator With Automatic Flush Valve
4" x 20" Sediment Pre-Filter 5 Micron
4" x 20" Carbon Pre-Filter 5 Micron
Inlet Actuator Valve with Bypass
High-Pressure Plunger Pump w/ safeguards
Stainless Steel Noise Damper to reduce Noise and Vibration
Stainless Steel Pressure Relief Valve
4" x 40" FRP High-Pressure Vessels
TFC 4" x 40" Membrane Elements
10" pH Adjust Carbon Post Filter
10" Ceramic 0.05 Micron Post Filter
12 GPM (Gallons per Minute) Ultra Violet Disinfection Sterilizer.
– Powder Coated Welded Aluminum frame will conform to AISC Manual of Construction
Instrumentation:
Automatic Operating Programmable logic controller UL/CE Approved with:
Smart Relay
Delayed start-up of high-pressure pump
Inlet Solenoid Valve Control
Low & High Feed Pressure Switches
Supply Pumps Controls
R/P Storage Tank Full Pump on/off
Auto Flush Cycle
Pre-Treat Lockout
TDS Water quality Monitor for Permeate Water Quality
Temperature Monitor with LCDE Display
Hour Meter
Complete Panel for Easy Controls
Stainless steel liquid-filled pressure gauges
Permeate and concentrate flow meters
Anti-Scalant Injection System including Tank, Pump Mixer, and Injector
Low pressure cut off Sensor Switch
Stainless Steel System Pressure Control Valve
High Pressure Diverter Valve
On/Off Main Power Switch
On/Off Feed Pump Switch
On/Off High-Pressure Pump Switch.
---
DESIGN BASIS:
System production is based on the following conditions:
| | |
| --- | --- |
| 1) Air Temp (Weather): | From 40? to -30°C |
| 2) Sea water Temp: | From 30? to -2? |
| 3) Machine Room: | From 50? to 0? |
| 4) Relativity Humidity: | From 95% to 0 |
| 5) Maximum Salinity: | 45,000ppm NaCI feed water, |
| 6) pH Range: | 3.0-11.0pH Range. |
|   |   |
Ship Motion:
| | |
| --- | --- |
| 1) Permanent Trim up to: | ± 5° |
| 2) Permanent List up to: | ±15° |
| 3) Pitching up to: | ±10° |
| 4) Rolling up to: | ±45° |
---
KEY FEATURES:
AC power or as per Project Requirement
One Button Start-Stop Operation
Energy Efficient, low amperage per gallon of product water
Quiet Operation.
System Pumps Included:
Smart-on Demand Suction Supply pump, will pull the sea water from any storage tank or directly from the sea.
Exclusive high-efficiency booster pump for extended pre-filter life.
Noise Reduction Features:
Noise Pulsation Dampener Included
Smooth running and extraordinarily quiet.
Vibration isolation mounts included.
Materials
Frame Fully Welded with Diamond Plate Base, built from 1/4″ Gauge Very Ridgid Aluminum, then Double Powder Coated will prevent corrosion.
Stainless steel exterior and interior pressure gauges and Valves for accurate measurement and control of water maker functions.
Heavy Duty Fiberglass Reinforced High Pressure Membrane Vessel is stronger and eliminates corrosion.
---
Safety:
The equipment and system are designed considering minimizing the hazard. Countermeasures against the system hazard are as follows:
Electrical Safety Devices:
Systems are equipped with a 3 Pole Sensor Breaker
Instrumentations are equipped with a Single Phase Breaker and 2 Fuses
Unique Low Voltage Control Circuitry, shielded terminals, & covered high voltage components for end-user safety.
Alarm Horn – Alarm Conditions: Low feed pressure & High permeate conductivity
Unit Shutdowns include:
Low feed pressure
Pretreatment filters in backwash
Product storage tank full
High permeate conductivity
Water Safety device:
Low-Pressure Sensor
A failsafe High-Pressure Product Water Diversion Valve Included
Monitoring and control devices for system safety:
– LCD Display Screen showing Conductivity, Hour Meter, and Temperature
– On-Off Push Buttons
– Panel Mount Liquid Filled Stainless Steel Pressure Gauges
– Panel Mount Flow Meters
– Pressure Control Valves
---
Service & Maintenance:
Shipped from the factory ready to install and function.
Complete installation kit included along with a detailed Owner's Operation & Maintenance Manual.
Worldwide Service and Sales Network for immediate attention regardless of location.
Technical service dedicated to excellent system performance.
Stage 1: On-Demand Feed Supply Pump to pull the Seawater from the Seacrest on Board.
Stage 2: Stainless Steel 316L Sand Separator with an Automatic Flush Valve for Silt and Muddy Areas down to 5 Micron
Stage 3: Five-micron Sediment pre-filter that reduces sediment, sand, silt, and rust particles that may be in your water supply down ti 5 Micron.
Stage 4: A heavy duty Five Micron Lead, Chemical and Organic reducing Carbon Block Pre=Filter (LVOC). This specially formulated block is capable of reducing lead as well as harmful Volatile Organic Chemicals.These water contaminants come from a variety of sources including localized use of herbicides and pesticides, gasoline or oil spill.
Stage 5: Injection of Anti Scalant solution is included to prevent the silica scaling, CaC03 and CaS04 in the RO membranes, consisting of Antiscalant tank, metering pumps, tank mixer and tank level switch.
Stage 6: Improved FILMTEC™ seawater reverse osmosis elements offer the highest productivity while maintaining excellent salt rejection.FILMTEC SW membrane elements have the highest flow rates available to meet the water demands of both sea-based and land-based desalinators. FILMTEC SW elements operate at lower pressure to reduce cost and operating expenses.
Improved FILMTEC seawater membrane combined with automated, precision element fabrication result in the most consistent product performance available.
Stage 7: Extruded activated carbon filter consist of virgin activated carbon powder, a thermoplastic binder, and specialty adsorbents such as zeolites oxidizing filtration media. The filters are manufactured as continuous lengths of rod, tube, slab, flexible flat sheet, or as other complex shapes using a proprietary solid-state extrusion process. The resulting products are highly porous and extremely uniform, providing high-performance adsorption and particulate reduction at low flow resistance when fabricated into finished filter elements.
Extruded activated carbon filters meet exacting performance requirements and/or claims, and specific models are registered as meeting the requirements of NSF/ANSI for VOCs and THMs reduction, particulate, cyst, turbidity, lead reduction, chlorine taste and odor reduction, and other requirements relating to purity and safety of their materials of construction.
Stage 8: 0.5 Ceramic Post Filter This Post-Filter is a self-sterilizing ceramic locked with bacteriostatic silver. The candle filter has an absolute rating of 0.5 microns, filtering a wide range of contaminating particulates. Additionally, it eliminates E. coli, cholera, salmonella and more. It is NSF certified for Standards 42 & 53, Excellent performance is Reliability after the Sea Water Desalination Process.
Stage 9: Ultraviolet disinfection is a means of killing or rendering harmless microorganisms in a dedicated environment. These microorganisms can range from bacteria and viruses to algae and protozoa. Ultra Violet disinfection is used to disinfect and sterilize Permeate Product Water after the Desalination Process. A major advantage of UV treatment is that it is capable of disinfecting water faster than chlorine without cumbersome retention tanks and harmful chemicals. UV treatment systems are also extremely cost efficient!
The Ampac SeaPro™ Sea Water Desalination Water Maker is the next generation Turnkey system designed for Commercial Marine and Navy Applications with internal High Pressure Booster Pump for ease of use in compact locations. Featuring a simple interface, the SeaPro Plus™ can be monitored via the control panel or the on-deck Remote Control. All components within the frame are readily accessible for easy maintenance.
| | |
| --- | --- |
| Production Based on the Following Feed water Conditions | Column1 |
| Water TDS | < 45,000 ppm |
| Recovery | 30% |
| Rejection | 98% Average |
| Water temperature | 25º Celsius |
| Pressure | > 10 psi |
| 110V/220V/380V/460V 50Hz/60Hz Single or 3 Phase power |   |
| Production over a 24-Hour Period |   |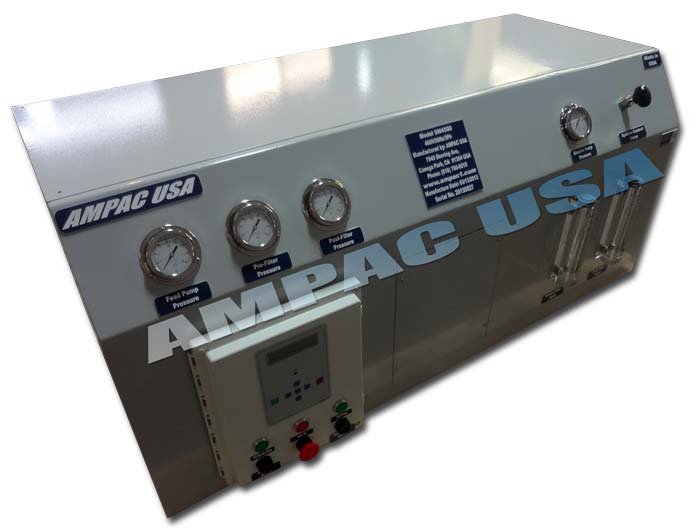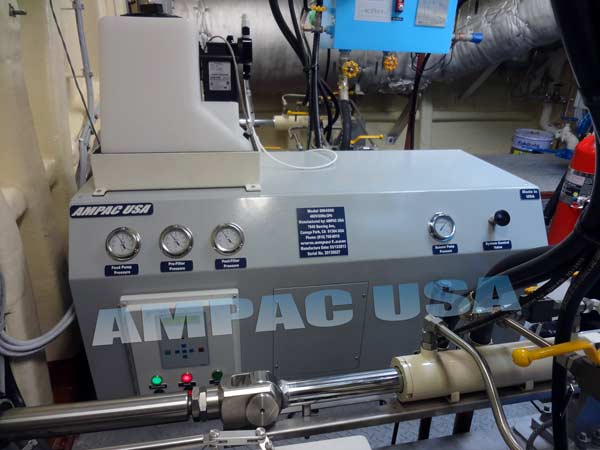 SW4500-ML Seawater Desalination                                   SW4500-ML Seawater Desalination 
Watermaker Installed on a Military Ship                  Watermaker unpacked ready for Installation.
.
*Prices are subject to change without notice.
Enterprise Tenet
Provide customers with high quality products, solutions and services to
achieve the common success of enterprises and employees.