DESCRIPTION
Everything You Need to Know About Commercial Reverse Osmosis
AMPAC USA is a one-stop-shop when you need a sustainable, practical, economical, and value for money commercial reverse osmosis system. We help you to get a perfect system that suits your need perfectly and is engineered flawlessly. As we have ample stock of each of our products, you can also expect a seamless delivery experience. If you need help in picking a system or you want us to customize something for you.
Call us on 909-548-4900, and we'll guide you to the right product in short order.
Look at the History of Reverse Osmosis
Not many people are aware of the fact that reverse osmosis was first discovered in 1748 by Jean-Antonie Nollet, a French clergyman, and a physicist. Though found so early, reverse osmosis was restricted to the laboratories till the late 1950s. It gained importance at that time because several researchers had begun to seek ways of making asymmetric membranes by using the ingenious thin-film technology.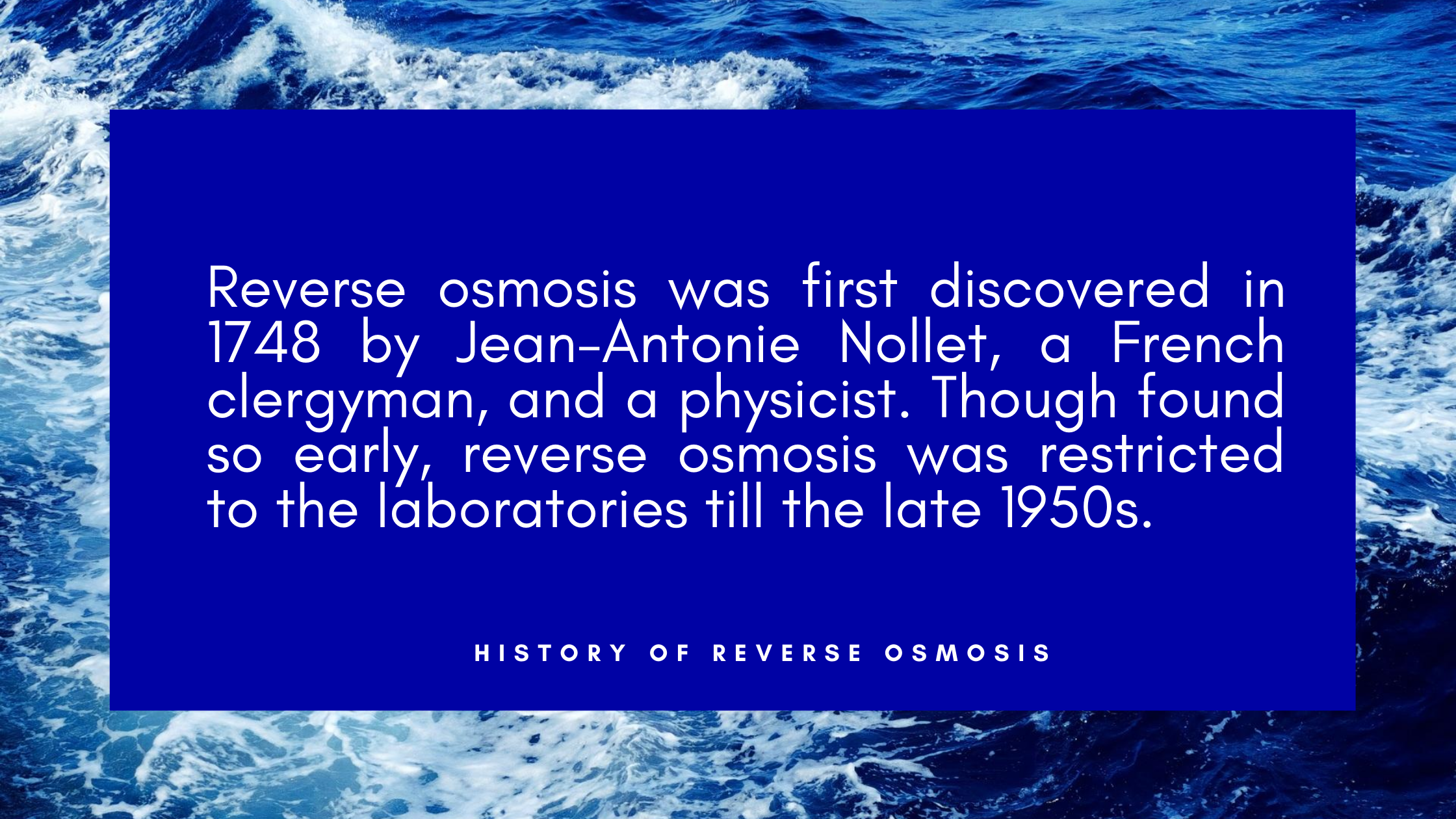 The attention proved to be good for reverse osmosis as by the time the century turned, reverse osmosis systems became very efficient, sophisticated, and highly admired. Since then, they have slowly crept into our lives as their manufacturing has grown with time, and people from across the world trust this technology to remove impurities and contaminants from liquids, especially water. These days, terms like residential reverse osmosis, commercial reverse osmosis, and industrial reverse osmosis are so common that most of us are familiar with them.
Understanding the Reverse Osmosis Process
Though you can find tons of data on the reverse osmosis process, here we have tried to simplify it further for people who are curious about industrial, residential, or commercial reverse osmosis systems.
What is Osmosis?
Before we shed light on reverse osmosis, let's understand what osmosis is. It is a natural process. When two liquids that have different concentrations of a solute are separated by using a semi-permeable membrane, the liquid usually moves from low to high solute concentrations in order to reach equilibrium.
Reverse Osmosis is a simple process in which the solvent that has a high solute concentration is forced via a semi-permeable membrane via pressure to reach an area that has low solute concentration. The pressure applied, known as the feed water pressure needs to be higher than the osmotic pressure to ensure the right results.
So, it's quite understandable that low-pressure solutions work with more dilute solutions, while highly concentrated solutions need greater pressure to get the right results.
The simplest thing you need to remember about reverse osmosis is that it's a useful and economical water treatment technology that ensures the removal of all contaminants and ensures that water purity matches even the highest quality standards.
What Does a Reverse Osmosis System Consist of?
Though the working of a reverse osmosis system might seem simpler from the above example, it's a bit more complicated than it seems. A residential, industrial, or commercial reverse osmosis system usually has many components. Some of them are explained briefly here: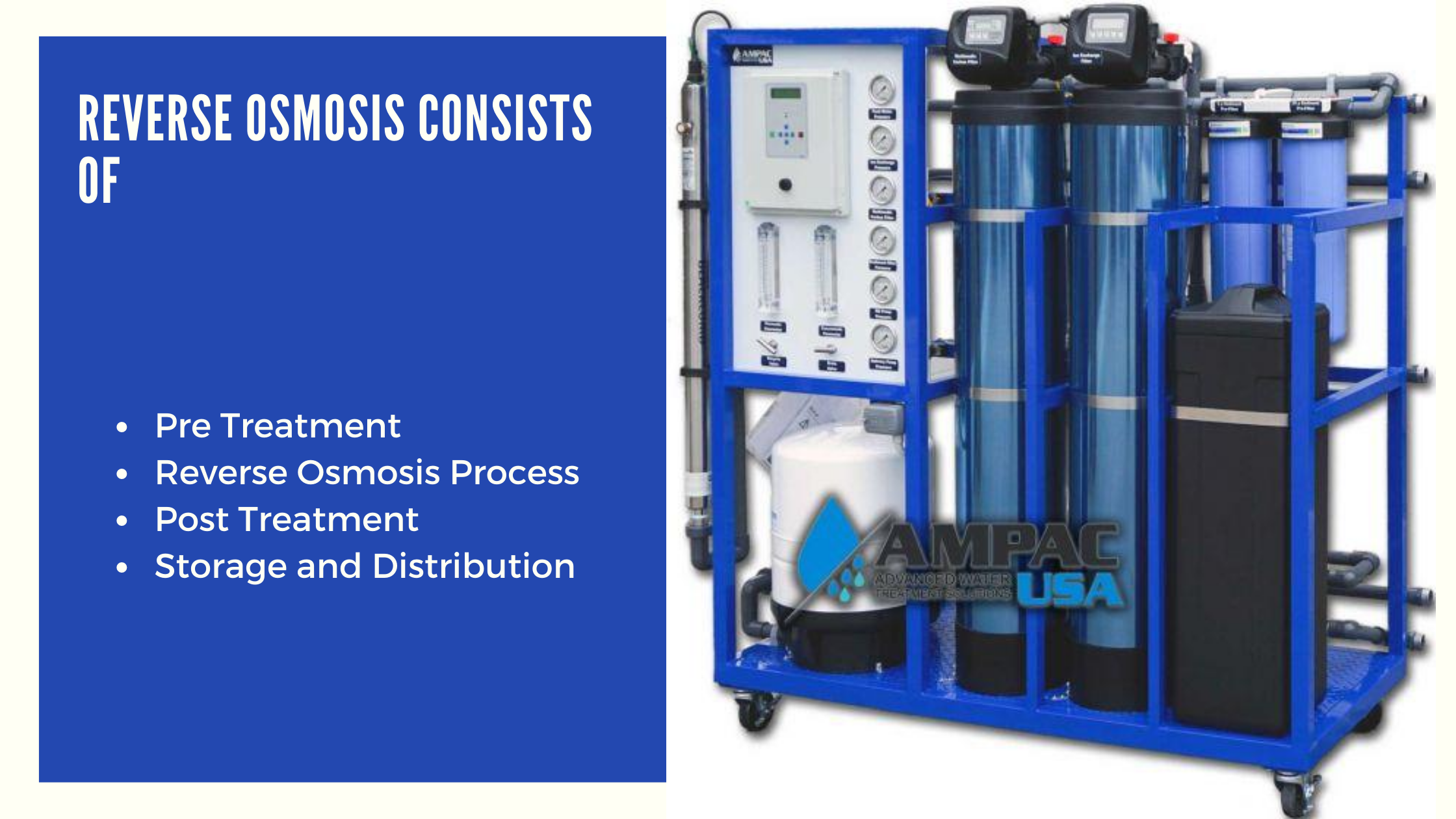 Pre-Treatment
This stage includes the use of carbon filters to ensure the removal of harmful elements like iron, chlorine, manganese, water softeners, sulfur filters, and antiscalant systems.
Reverse Osmosis
In this stage, water is passed through a semi-permeable membrane by applying pressure to ensure that the contaminants are trapped and removed. The result is clean and 100% contamination-free water that is tasteless, colorless and odorless.
Post Treatment
This stage usually includes using ultraviolent disinfection, abbreviated as UV or ozonation to ensure pH levels adjustment, add some hardness to the water, and kill bacteria. It also includes deionization to demineralize the water.
Often, the customers demand to monitor the end of water quality. To accommodate that request, various analyzers can be used.
Storage and Distribution
It is a known fact that RO systems need a lot of time to purify water up to the desired standards. So, they need tanks to store water. There are usually two types of tanks, atmospheric tanks that can be anywhere from 75 gallons to 2,000 gallons and bladder types, which are 14 to 80 gallons. The water quality is higher in atmospheric tanks as compared to bladder type tanks. Atmospheric tanks are usually bigger and have to bladder to supply backpressure. Hence, a booster pump is often needed to re-pressure the water and distribute it at a good pace.
Stages of Reverse Osmosis Water
The Reverse Osmosis (RO) water systems can have as few as two stages and as high as eight stages. Choosing how many stages you need largely depends on the quality of water that needs to be purified. Usually, 5 stages are enough for a RO system, but you can go higher if you want more purity depending on the use you need to put the purified water too.  
How to Choose a Commercial Reverse Osmosis System
When you need to choose a commercial reverse osmosis system from many options, here are a few factors that must be considered.
The hardness of Water– The higher the hardness of water is, the higher would be the efforts needed to clean and purify it.
TDS– The higher the number of total dissolved solids, the higher would be the time and effort needed to purify it.
Chlorine Level– Earlier used as a cleaning method, high levels of chlorine could harm your health. So, you need to get rid of excess chlorine from water.
Iron Level– High iron levels are not recommended in water. If you need to get rid of them, you need an appropriate system.
Manganese Level– Manganese can change the taste, smell, and color of the water. To remove it, the reverse osmosis process is highly recommended.
Silica– High levels of silica consumption have been linked to many serious illnesses like renal diseases or cancer. You must eliminate it from your water.
Turbidity– High turbidity in water is also quite bad for health. Make sure you eliminate it completely.
Other Factors
When seeking a RO system, you need to ensure that the system meets the quality standards set by relevant authorities and is made in the USA.
As every drop of water, you purify will cost you money, you would be wise to choose a system that can purify huge amounts of water at the lowest possible costs.
If a system is being designed for your commercial needs, it should also be customized to ensure specific needs are met.
Always trust a renowned brand in the water purification industry like AMPAC USA for reliable commercial reverse osmosis systems to increase your product satisfaction.
Trust Us for the Key Solutions You Need
When you have decided what features are essential for a commercial reverse osmosis system you need, you can count on AMPAC USA to provide you with the following
We have a wide range of RO membranes that help you to keep water pure and contamination-free by trapping different types of impurities.
We also offer a wide range of pre-treatment solutions that include but are not limited to filtration, antiscalants, oxidation, softening, and disinfection, among others.
These include ultraviolet, pH adjustment, ozonation, deionization, and carbon filtration, among others.
Why Trust AMPAC USA for Every Commercial Reverse Osmosis Needs or Requirements?
When it comes to providing commercial reverse osmosis systems, we have an extensive range that we keep on expanding. No matter whether you need a small RO system for a small commercial establishment like a café or you need a large system for the needs of an expansive resort, you can trust us with both. We create systems that range from 100 gallons per day to 12,000 gallons per day. We have designed systems with a capacity of 250,000 gallons per day as well. In addition to fulfilling commercial water needs, we also design systems for huge industries and military needs.
Our RO systems have been deployed in various industries. We create such solutions for restaurants, breweries, coffee shops, wineries, seafood processing, boilers, dairy products manufacturers, humidifiers, metal preparation, and even to meet the washing needs of automotive, aerospace industries as well as dialysis systems.
Loyal clients form different parts of the world trust our RO systems to work efficiently and effectively. These systems are reliable and can be depended upon to offer consistent performance for many years in a row.
Every commercial reverse osmosis system we design would have a smart technical design, unparalleled system architecture, and amazing build quality. We use Powder-coated welded aluminum for all frames, industrial-grade stainless steel is used for pressure vessels, and fastening hardware is used to offer structural strengths and corrosion resistance.
We design, deploy and deliver easy to use systems that have simple operations and need minimum user intervention. Even the maintenance needs of such systems are low, and they will last longer than expectations if those few needs are appropriately met.
We have categorized our commercial RO systems in different categories. The first category is for small and mid-sized businesses as the systems produce just 100-1200 gallons per day. The second category is reverse osmosis systems that produce 1,500-10,000 gallons per day. The next few categories are Brackish Water Reverse Osmosis, Packaged Reverse Osmosis, and Commercial Water Filters.
How We Design Custom Commercial Reverse Osmosis Solutions
The first stage is to feed water analysis in which we analyze the feed water at the client's locations and decide on the water requirements and conditions. As the main goal of a custom solution is to meet the exact needs of the customers, we make sure that we spend a few days at this stage to ensure we map every water purification need you might have.
After the analysis, our process engineers design and fabricate the water treatment equipment that can solve specific problems faced by the customers. The engineers consult with the expert design team to engineer a custom solution. At this stage, we will determine a system that is the best for your water conditions.
Design and Engineering Stage
At this stage, the focus will shift to crafting an initial process and instrumentation diagram that will lead to the right system design and flow. Our design team will detail the vital components and ensure that accuracy is maintained at every step of the way. Our team has skilled and highly experienced professionals in the field of chemical, mechanical, and electrical engineering, and they would collaborate to create the best design. During this stage, the budget proposal would also be sent to potential clients, and we will do our best to offer the most competitive pricing.
After getting client approvals, we initiate the manufacturing process under the supervision of a deft project manager who will take full responsibility for the manufacturing from start to successful completion. The main focus at this stage is to follow the exact specifications while keeping quality and good industrial practices in mind. The focus is also on following guidelines shared by components manufacturers to ensure every component fits in and works perfectly.
Once the manufacturing process is complete, we do several quality tests to ensure that the system is doing what it was designed for. We test every system we create for a minimum of 72 hours and that too under the toughest conditions. After all the tests are cleared, then only the Quality Control Team and the Project Manager approve the system and offer relevant documentation needed for approval from their ends.
Deployment and Assistance
Post a thorough quality testing stage, the shipping team ensures that the system is rightly packed and shipped via the shortest route. We can also lend assistance when it comes to installation, start-up, commissioning as well as offer training to people who are meant to operate the system. We also offer exceptional after-sales support, which includes resolving queries, offering product support, and providing with consumables, spare parts, and service whenever needed.
Are you interested in buying a commercial reverse osmosis system? If so, connect with us. We always aim not just to meet but exceed customer expectations.
Call 909-548-4900 for inquiries and let our customer service team guide you to the right commercial reverse osmosis system!